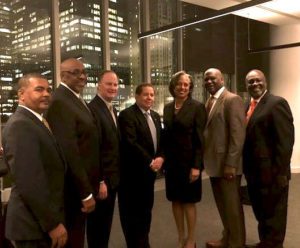 November 1, 2017. Written by Bijou Gervais, coordinator, Le Flambeau Foundation.
The Le Flambeau Foundation 10th Anniversary Awards Celebration was a joyous occasion that brought together a diverse group of those passionate about education and Haiti, to the University of Chicago Booth School of Business Gleacher Center on the evening of October 26th, 2017.
The gathering was particularly symbolic since Chicago was founded by Jean Baptiste Point du Sable (also DuSable), a Haitian explorer and merchant. The Chicago Booth Gleacher Center happens to be located in the exact vicinity of DuSable's home and trading center. Chicago is also the place where the spark that eventually led to the formation of Le Flambeau Foundation, was first lit.
The Celebration Unfolds
The program included opening remarks from the Consul General of Haiti in Chicago, Lesly Condé who set the stage by extending congratulatory greetings to the foundation and reminding us that Haitians are the embodiment of strength and resilience. His remarks can be found (here).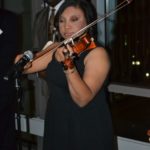 Following was  a beautiful violin rendition of the Haitian national anthem and then the United States national anthem, performed by Le Flambeau Foundation Scholar Ruchama.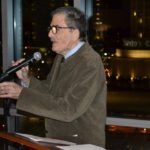 The program continued with the history of Le Flambeau Foundation and remarks from Marvin Zonis, a professor at the University of Chicago Booth School of Business, who sparked what would eventually grow into the foundation.
To provide a full grasp of the contributions the foundation has made to the education of the Haitian youth, we heard testimony from two scholars who were greatly impacted by Le Flambeau Foundation.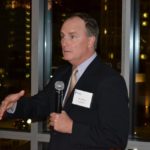 The first,was a letter read by Le Flambeau Foundation Board Director Joseph Puchner, from Vicktho Desforges who shared his triumphant story of economic mobility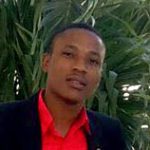 sparked from his involvement with the foundation that led to his learning of English, promoting him to one of the highest ranking health officials for the northern region of Haiti.   His remarks can be found (here).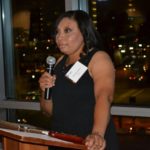 Followed was a testimony given by Le Flambeau Foundation Ruchama, who spoke about the continuous support she received from Le Flambeau Foundation as she completed her undergraduate degree at College of the Ozark, all while overcoming significant odds.   Ruchama's speech can be found (here).  To hear firsthand from the youth of Haiti, made everyone in the room aware of how much power each of us have, to create change.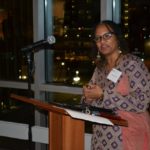 Enthralled by all the foundation has accomplished in 10 years,  guests then heard an impassioned speech by Reverend  Dr. Joanne Marie Terrell, as she recounted her experiences in Haiti and the love she received from the people who did not know her but were willing to accept her. A kind of love that within the U.S. is rarely found so easily, yet comes to the Haitian people naturally and contributes to their keen ability to thrive.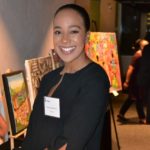 Special appreciation was extended to Ms. Naomy Grand'Pierre, a junior at the University of Chicago who became the first female swimmer from Haiti to compete in the Olympics.  Naomy volunteered her time to assist with the silent auction and shares the passion that drives Le Flambeau Foundation; to extend opportunities to the youth in Haiti for advancement.
It was noted that all of these momentous achievements would not have been possible without the support of key individuals including Amanda Kralj, Angie Lanos, Cheyenne Olson, Dominique Lochet, Guerrier Dorlus, and many more. In order to fully appreciate those who were pivotal in the development of the foundation three awards of recognition were awarded.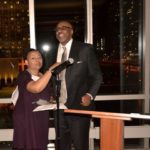 The first individual recognized, presented by Le Flambeau Foundation Board Director Gregory Collingwood, was Ms. Deborah Fallahay who was awarded the Visionary Award for her continuous involvement with the foundation since its inception in 2007, serving as the English Grader for THE SPARK of Le Flambeau for numerous years, serving as on-going contributor of books and educational materials for the youth in Haiti, and serving as a critical member of the logistics team in the execution of this 10th Anniversary Celebration. Her vision was on-point and transformed dreams to our shared reality.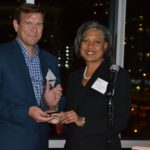 The next award, presented by Le Flambeau Foundation Board Director Sheri Colas-Gervais, was the Pioneer Award, granted to Mr. Ray Roman during his time as SVP at Dell Computers donated 102 Dell laptops to Le Flambeau Foundation, during the foundation's very early years.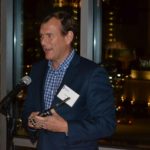 He took a leap of faith and was a pioneer for what was destined to become ten years of making a significant difference in the lives of youth in Haiti, as Le Flambeau Foundation.  The computers were pivotal with the Le Flambeau Laptop Clubs and THE SPARK of Le Flambeau programs.  On this night Mr. Roman had an opportunity meet one of the students who benefited from the computers he donated, for the first time.  That student was scholar Ruchama.  Lives were changed because of Mr. Roman's pioneering spirit and actions.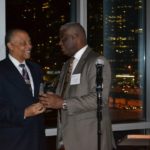 The final honoree was Judge Lionel Jean-Baptiste, who received the DuSable Award, presented by Le Flambeau Foundation Board Director Timothy Wright III; in recognition of  Judge Jean-Baptiste' exceptional accomplishments, service, and leadership as role model and educator for our youth in Haiti.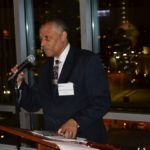 In 2001, he became the first Haitian-American elected in the State of Illinois as Alderman/City Councilman of the City of Evanston and for 3 consecutive terms serving 10 years on the City Council.  In March of 2011, he became the first Haitian-American to be sworn in as Judge by the Illinois Supreme Court.   We thank Judge Lionel Jean-Baptiste for playing such an important role in shaping a bright future for our communities in, from, and engaged with – Haiti.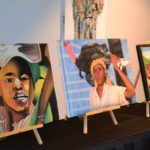 The night wrapped up with final bids for the silent art auction.  The fundraising campaign was launched with the target of increasing capacity for the foundation in order to deliver programming and benefit more youth in Haiti with education;  ultimately impacting job creation and elevation.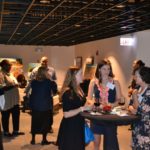 Though the night was designed to celebrate the past 10 year of Le Flambeau Foundation it also served as a catalyst in laying and accelerating the foundation necessary to restore the bright future destined for our beloved Ayiti, and for our global communities.
Thank you to the event planning and execution team members Deborah Fallahay (registration, floor director), Jadine Collingwood (art auction designer and manager), Naomy Grand'Pierre (art auction volunteer, first female Haitian Olympic swimmer), Valerie Wilson-Reed (program emcee), and Bijou Gervais (LFF coordinator).
Appreciation is extended to sponsors Quarles & Brady LLP, University of Chicago Booth School of Business, and Allstate; and supporters GCom Partners and RitzHolman.
Our fundraising campaign was launched at our 10th Anniversary Awards Celebration o October 26th with the target of increasing the capacity of the foundation to deliver more programming that will reach and benefit more youth in Haiti via access to education; ultimately impacting job creation and elevation. We invite you to join us in making a tax deductible commitment by clicking here.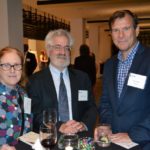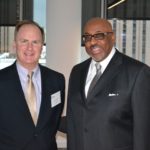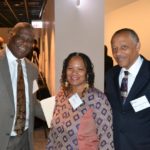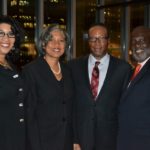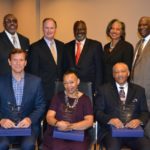 Thank You for your support!
To view more pictures (click here)