With the steep rise of rents and the closure of cultural touchstones like botanicas, some Haitian immigrants don't feel at home in their own neighborhood.
Vice, By Christian Portilla, Sep 21 2018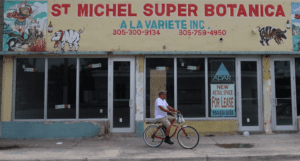 From 2014 until this past April, I lived on Northwest Second Avenue in Miami, Florida's Little Haiti neighborhood. Migrants from Haiti began arriving here in large numbers in the late 80s, following the collapse of the Jean-Claude Duvalier dictatorship. For many, the weather and ambiance of Miami seemed like a natural transition.
My studio was across the street from the Zubi Market, a small bodega that stayed open during Hurricane Irma after all the major chain drugstores and groceries had closed. I lived down the street from little Caribbean spots like Clives Cafe, a Jamaican eatery famous for its meat and veggie patties, and Chef Creole, which attracts tourists looking to try Haitian cuisine like griot and plantains for the first time. I used to love to walk down Second Avenue and see women selling dresses off of trees or watch people run after the jitney, a small van that costs $1.50 and drives all through the main streets of the area. But my favorite thing to do in Little Haiti was just hang out on my balcony and listen to the sounds of Kompa music blasting from the loudspeakers outside of the neighborhood's botanicas, which are spiritual stores known for selling potions, religious statues, and alternative medicine. Botanicas are especially popular among devotees of Vodou, Brujería, and Santería faiths.
Over the years, however, gentrification has begun to erase these distinct features that make Little Haiti a special place. A 2015 New York Times article helped spark the wave by alerting art collectors and real estate developers that Little Haiti had a hot scene. Since then, the property values have been climbing. According to real-estate analytics website Zumper, rents in Little Haiti jumped 13 percent over the fall quarter of 2017 and Miami started off the year as the ninth most expensive rental market in the nation. These days, Second Avenue is in transition, the old botanica block was stripped of its facade, and one of the few places you'll find Haitians and locals hanging out is at the Caribbean Marketplace at the Little Haiti Cultural Complex. Paintings of patron saints by local artists like Serge Toussaint have been replaced with large windows sporting the stickers of development companies. Residents and small business owners in the area have been fiercely opposed to development projects that look to replace apartments with massive residential and commercial towers. I decided to move three months ago, after getting a note from my landlord that my rent was increasing $200.
Even though I no longer live in Little Haiti, I'm still interested in the change that is happening in the neighborhood. To find out how gentrification has impacted those who are still there, I chatted with some local folks. Here's what they had to say.
I decided to come to Miami from Haiti in 1984 when I was pregnant with my fifth child. I knew I wanted to give birth to her here. But this area has changed a lot. The people that are here now, we've never seen before. They don't look like me. When I first came here, we maybe had about 14 buildings. Right now you look around and you see so many and they're so large. They also never cleaned here. In the last five or six years, the city would never clean up the streets. Now, they come and clean at night and spray for mosquitoes, too.
I'm a socialist and a leftist. It totally makes sense to me that someone might see me as the white gentrifier. It's not a false charge. But while I'm here, I'm trying to fight for the people. I work with F amily Action Network Movement (FANM), an organization that fights for the fair treatment of immigrants, and The Dream Defenders, a human rights organization aimed at ending police and state brutality geared toward people of color. I was just out canvassing Amendment 4 to restore voting rights for felons and I'm about to head out again. Yes, they're right about labeling me a gentrifier, but what do we do about it? Should I move to Midtown? Does it help the neighborhood if I just never came here, would the neighborhood be better off? That's how I think about it.
I'm looking to buy something, and even this neighborhood is already getting too expensive for me. I'm going to be fine but the people that gentrification affects are the people that are poor that are going to get evicted and lose their housing. It's already happening. It's our job together to fight against that. We have to stop stuff like Eastside Ridge. We should have stopped Magic City, but they did a better job of dividing the community. What we need in this neighborhood and every neighborhood is social housing, rent control, and rent stabilization. That matters more than whether individual white people move into a mostly black neighborhood.
In the beginning, it wasn't like this. Now tourists come. I'm selling more. It's better for the community that the developers are coming here. It's better for you if you have a chance to stay. They raise the rent, and if you can't afford it, then you move out. It used to be $900—now they've added $500. There are a lot of businesses that can't handle it, and they have to move out. I reduced my budget to keep my business.
I would like for the landlord to let me keep my business and see what will happen in the future. If they raise it again, I'll have to move. It's not fair, but what can I do? If I had the money, I would buy this place. Before the first owner sold it, he was asking me for $500,000. I heard the new owner purchased the building for $1 million. Even if I can't stay here, I'll move my business to another place. I'm well known. If I tell them I moved to a new place, my customers will go there.
To read the rest of the article (click here).