World renowned Haitian-American composer and violinist Daniel Bernard Roumain (aka DBR) performed recently at the South Miami-Dade Cultural Arts Center. A good portion of his time was devoted to teaching community youth through music.  Le Flambeau Foundation Youth Programs Coordinator Bijou, a high school student,  attended the concert and met famous composer DBR.  Following is Bijou's report.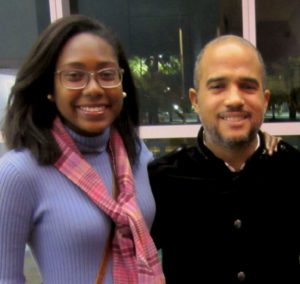 DBR's enthralling performance was not only valued for the beautiful music but also for the educational value it possessed.  By noting patterns of some of the greatest classical composers such as Bach and Mozart, DBR was able to further delve into the working of music and adapt them in such a manner that they attained multiple depths.  The arching of the violin combined with the steady beat of a tapping foot all contributed the magical production of what we reference as music.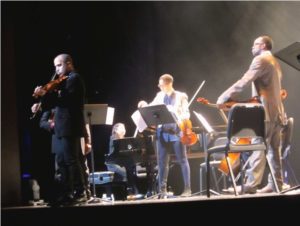 However, behind each note and discovery was a story;  a story of a little black boy raised in a Haitian household or the determination of an activist such as Rosa Parks.  As a man of Haitian American roots, DBR was able to encompass both his cultures in the music performed and bring light to the idea that sometimes being different is what you need to make a difference.  Emotions and history were transcended to the audience through the simple arrangement of notes.  Notes that will continue to ring amongst the ears of future pioneers.
Bijou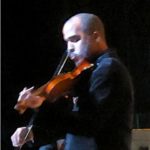 About Daniel Bernard Roumain (aka DBR)
Haitian-born classical violinist Daniel Bernard Roumain has made a name for himself across the musical spectrum, performing with DJ Spooky, Emeline Michel, and Lady Gaga, composing work for dance companies, and, under his own banner, combining violin with electronics and programmed rhythms in a way that's no mere grafting of classical instrumentation to hip-hop à la Miri Ben-Ari, but a genuinely new sound. Daniel Roumain's acclaimed work as a composer and a performer has spanned more than two decades, and has been commissioned by venerable artists and institutions worldwide. Proving that he's "about as omnivorous as a contemporary artist gets" (New York Times), Roumain is perhaps the only composer whose collaborations span the worlds of Philip Glass, Cassandra Wilson, Bill T. Jones, Savion Glover and Lady Gaga.  Roumain earned his doctorate in Music Composition from the University of Michigan under the tutelage of William Bolcom and Michael Daugherty.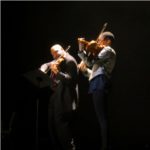 About the Concert Tour
Presented was FILTER, featuring Roumain and the members of The Harlem Chamber Players and the Sphinx Organization, an evening of chamber music setting works from the classical cannon—Bach, Bartók, Mendelssohn, and Brahms—alongside Roumain's own compositions, highlighting their shared creative impulses. Performers: Daniel Roumain, violin; The Harlem Chamber Players/Sphinx Organization members: Ashley Horne, violin, Monica Davis, violin, Adam Hill, viola, and Lawrence Zoernig, cello; and Yayoi Ikawa, piano.