The Le Flambeau Foundation exists because of the exceptional passion, hard work, vision, perseverance and tremendous leadership of two individuals.  Interestingly the first leader highlighted below significantly influenced the second leader featured – they were connected in so many ways; in a manner that we all should be.  They believed in the goodness of man, in equality for all and in elevation through education.  They believed in our young people.   They believed in sharing – one must give to live and live to give.  They believed in the future.   They believed that we can do anything.  And so we are.
Sénateur Emile Saint-Lôt (September 11, 1904 – August 17, 1976)
Sénateur Emile Saint-Lôt  left an indelible mark in history.  Gifted with an extraordinary talent for molding and liberating entire countries, young Emile  Saint-Lôt lit, carried and passed on the Torch for generations to come.  Degreed as a lawyer, an agronomist and as a journalist;  young Emile  Saint-Lôt grew to be an advocate for education, a guardian of human rights and one of the most respected and accomplished leaders of our time.
Emile Saint-Lôt served in numerous leadership roles as Senateur for the West, a signatory for the Constitution of Haiti, a founding member of the United Nations, the first UN Ambassador for Haiti,  a signatory for the historic Universal Declaration of Human Rights in Paris with U.S. First Lady Eleanor Roosevelt and much more  (read more)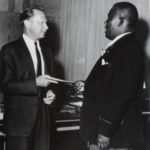 (Photos –  above left:  Sénateur Emile Saint-Lôt and second Secretary-General of the United Nations Dag Hammarskjöld, above right: Sénateur Emile Saint-Lôt and W.E.B. DuBois in Haiti, Sénateur Emile Saint-Lôt and Emperor of Ethiopia Haile Selassie)
---
Dr.  Luc L. Colas, MD, Esq. (February 24, 1921 – November 3, 2009)
Dr. Luc L. Colas devoted his life to leading, teaching and giving.  His spirit lives on in the many who have been formed  and elevated by his presence and accomplishments.  Guided by the legacy of Dr. Luc Colas are doctors, lawyers, judges, mayors, diplomats, etc …our leaders of today and tomorrow, most visibly in Haiti.  Education was a centerpiece throughout his life.  Dr. Luc Colas is known to have been an exceptionally accomplished man of character, intellect, discipline and vision; with an extraordinary love for, and faith in, humankind.
Born in 1921 in Cap-Haitian Haiti, one of eight children, young Luc Colas excelled in school to become a respected medical doctor (Haiti, U, a member of the United Nations (W.H.O)  medical team in Africa, a lawyer,  judge, college president, college dean and college professor.  Dr. Colas also became  a founding member of the Rotary Club in Cap-Haitian and later represented Haiti on a medical mission to Hong Kong as a Rotarian.  With an impressive list of accomplishments Luc L. Colas life was a classroom and he soaked up volumes while he was there.
As Dr. Colas was being educated, he was educating.  The young people around him were inspired and followed in his footsteps.   Integrity and discipline were hallmarks.  (read more)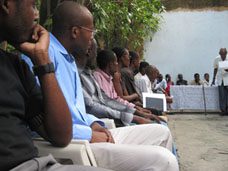 .

(Photo:  Dr. Luc L. Colas offering remarks to students at first Le Flambeau Foundation reception in Cap-Haitien, Haiti)
.
.
They built the Torch, lit the Torch, committed their lives to it, then handed it over to us to carry it forward.  They are our Foundation.  Together they are Le Flambeau.