Opponents of Haiti's president want him gone. His response: Wait your turn.
Miami Herald, by Jacqueline Charles, November 21, 2018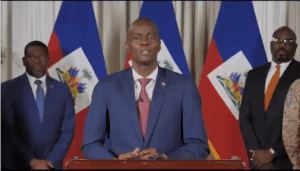 Haiti President Jovenel Moïse, who had remained silent as calls for his resignation paralyzed the country with violence and protests in recent days, finally addressed the nation Wednesday, reminding Haitians that he is the elected president and anyone wanting the job will have to wait.
"During my five-year presidency, no one, and I mean no one under any pretext can threaten the country's interest. It puts the nation in danger," Moïse said in a pre-recorded address with his prime minister and ministers of justice and interior standing to his right and the country's police chief on his left. "Democracy demands sacrifice. Democracy demands that the rules of the game be respected just as the constitution requires."
Moïse's speech came at the end of a day in which opponents continued to reject any suggestion of sharing power with his 21-month-old administration. Some were also roiled by reports that Moïse was prepared to cede many of his responsibilities to recently appointed Prime Minister Jean Henry Céant in an effort to calm tensions, but then was persuaded by advisers to abort the idea.
Earlier in the day, police and government workers removed fiery barricades blocking some streets. But tensions once more became inflamed after a government vehicle traveling on the airport road lost control and slammed into a group of people, killing six. Angered, some people on the scene set the vehicle ablaze.
Despite timid efforts by the country to resume normal activities since protests began on Sunday, Wednesday marked the fourth day in which most businesses and schools were closed.
Following Sunday's protests, opposition groups called for a general countrywide strike to demand Moïse's resignation and an investigation into alleged corruption in the Venezuelan subsidized energy program known as PetroCaribe. Two Senate Commission reports have accused more than a dozen former government officials and heads of private firms of embezzling $2 billion in Venezuelan oil loans — money that could have helped the country rebuild after its devastating earthquake in 2010. A company owned by Moïse is also cited.
Moïse did not mention the PetroCaribe allegations in his speech of five minutes and 50 seconds. He instead tried to project the image of a commander in chief in charge, while lecturing opponents about the merits of democracy and need for dialogue. His message, however, did not sway those calling for his departure from office on the grounds that he has failed to improve conditions in Haiti and refuses to address the corruption allegations. They announced plans for another protest on Friday.
"We are not interested in negotiating," said Andre Michel, an attorney and one of the president's most vocal opponents. "Today, the only option that exists for democracy is to continue to pursue mobilization for Jovenel Moïse to resign so that we can hold a national conference, and all sectors can sit and construct another state, another country in the interests of all Haitians."
"A president has to show that he had heard the people," Michel added. "The president has not heard the message of the population, which is one, to resign and the other, to begin the process of the Petrocaribe investigation."
To read rest of article click here).