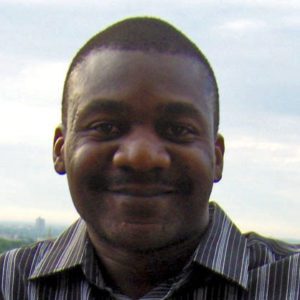 – Le Flambeau Featured Leader, September 2011
A man of great value who not only strives to change the lives of Haitian youth but to change the world, one stride at a time – this is Guerrier Dorlus from Kenscoff, Haiti.  From the very beginning Guerrier selflessly volunteered his time in order to help with the development of the Le Flambeau Foundation. With an endless amount of determination and perseverance he endured the journey to seeing our shared dream, achieve success. While holding a full time job as an accountant with a company in Haiti, Guerrier volunteered his time to serve as the Haiti administrator for the Foundation.  By following up on details, providing scholarship application packets to student candidates, ensuring that completed applications arrived in our offices in the U.S. and in Cap-Haitian, arranging and escorting final candidates to do their interview with Dr. Luc Colas in Cap-Haitien, and being an exemplary role model to youth in Haiti; Guerrier helped transform this dream into the reality that the Le Flambeau Foundation is today.
Two students who started under Guerrier's watch have now graduated with 4-year college degrees in the U.S.,  they performed in the top tier of their class,
and are now headed to graduate school- one is currently attending Harvard (pictured with Guerrier in Haiti at the very beginning).  During the time Guerrier worked with the Le Flambeau Foundation he managed to not only maintain his status as a hard worker and exceptionally committed individual, he also took the steps to go above and beyond. This spirit led Dorlus to leave Haiti and take his next big strides in Canada to achieve an even greater educational goal.  A man of humble beginnings, Guerrier Dorlus remains loyal and true to his roots in Haiti and offers us a recent update on his journey and plans for the future.
"First of all, I am about to achieve a graduate diploma in accounting at Montreal University – HEC and I've just applied for a master's program in financial and strategic accounting there. After my studying period, I`d like to go back to Haiti to work there, mostly in the non-profit sector and I'd like to teach strategic accounting there.  Helping at the Le Flambeau Foundation is a way for me to contribute to something valuable for my country by helping young people to have a better education that is one of the most important parameters to develop a country. My vision for Haiti is seeing , one day, that all Haitians can find the pride that we did have before. In order to see this, we need to begin to educate the population today." – Mr. Guerrier Dorlus, featured Le Flambeau Foundation Leader
It was difficult for us when Guerrier left Haiti and yet we were pleased to have been a part of his journey – one that we know will eventually bring him back to Haiti.  We know that Guerrier will be a shining star and will create a path that many other young people in Haiti will choose to take, because of him.  Le Flambeau Foundation President Jean St.Lot-Gervais said the following about Guerrier Dorlus.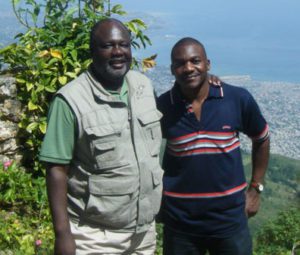 " Unbreakable.  Guerrier is a gifted individual. His devotion, discipline, integrity, and determination; make him stand apart from any individual I've ever known.  He is destined to accomplish great things for Haiti.  If I had a son I would want him to be like Guerrier.  In my mind he is the perfect son and an exceptional human being.  I am honored to have had Guerrier in my life and to have him as a life-long member of the Le Flambeau Foundation family." – Mr. Jean St.Lot-Gervais, Le Flambeau Foundation President
The is the essence of the Le Flambeau Foundation.  We have been gifted and we pass forward these gifts so that others may also have opportunities to take us the next step forward.  Mr. Guerrier Dorlus takes his life strides with this principle ingrained in who he is and we thank him for this.   He is a man of great value  who makes us proud.  The world is changing.  The future is bright!